3,000 + Satisfied Clients
30 + Industries Served
2,500 + ProjEcts
DMG Blog
5 Reasons Why Your Brands Should be Using SNAPCHAT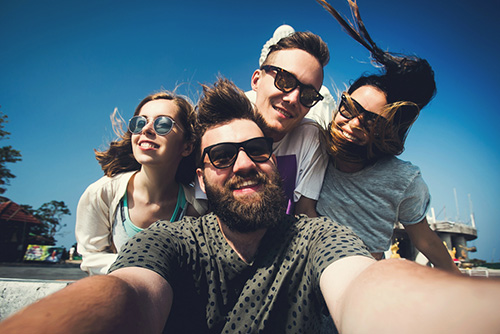 Since its launch in September 2011, Snapchat has certainly gained popularity in today's digital world, peaking at an impressive 100 million daily active users and 400 million snaps per day. What started out as another obscure mobile network has gone mainstream in a big way and has now become a powerful marketing tool for brands all over the globe.
Here are five reasons why brands should be using Snapchat to communicate with their stakeholders.
1.)  Audience:
If you're looking to target millennials, or specifically people between the ages of 13-25, then Snapchat is your best bet! According to Snapchat, 71% of 13-34-year-olds with a smartphone are active users. Regardless if your audience doesn't fall into that demographic, Snapchat has become a vital part of global marketing.
2.) Humanize Your Brand:
In comparison to other platforms such as Facebook and Twitter, there is less pressure for Snapchat users to appear perfect. Snaps disappear in mere seconds and you are encouraged to add drawings, captions and other fun graphics to the photos or videos you record.
Build stories on Snapchat using the 'My Story' feature to highlight your personalized brand and engage with followers so you feel more like their friend, rather than another company looking to make 'noise' to promote their latest products and services.
3.) Living in the Moment:
Or shall I say advertising in the moment. Snapchat is perfect for real-time social media marketing because it offers audiences' direct access to live events such as product launches, tradeshows and more! What makes this app even more spectacular is that after 24 hours of posting on 'My Story,' the update is gone, which means engaged users will check for updates over the course of the day.
4.) Engage:
Snapchat offers remarkable engagement through its many features. Users can swipe through stories and updates, send private messages and use the 'My Story' feature. As your story changes every 24 hours, you can expect your followers to check frequently through the day to make sure they haven't missed out on your Snaps.
It's also important to note that users are able to see who has viewed their content. This reassures users that you are in fact interested in their festivities, which in return will gain their attention and loyalty.
5.) Keep Up with The Digital World:
Snapchat influences brands to be creative when engaging with their audiences. Users feel like they are part of a brand as opposed to being an outsider. This new approach in marketing and advertising connects users and encourages communication while assisting brands in growing and establishing valuable relations with their clientele.
Remember: there are over 100 million daily active users on Snapchat. If your goal is to be social media savvy then becoming a Snapchat user is an absolute must!
At Dolce Media Group Toronto social media agency, Our social media managers are trained professionals who, after studying your business and market, will design a social networking plan based on the most effective platforms that will launch your brand to new heights.
Tags: 5 Reasons Why Your Business should be on Snapchat, snapchat for business marketing, snapchat marketing

client's testimonial
"With the results-driven team at Dolce, 133 Hazelton and 181 Davenport received exposure that made these projects a success. Dolce understood our vision and developed effective marketing solutions that exceeded expectation."
Sam Mizrahi
Mizrahi Developments
"Their responsiveness and customer service is second to none. Guildhall is proud to align ourselves with a company that stands for excellence, luxury and integrity. We look forward to a long and successful working relationship with DMG."

Nicole Snitman
Guildhall Diamonds Inc.