0

+ Satisfied Clients

0

+ Industries Served

0

+ ProjEcts
Digital Stand Alone Screens
OUR EXPERTISE:
Revolutionary brand promotion
State-of-the-art technology
Interactive marketing
Backed by a team of digital experts, creative videographers and graphic designers
Introducing the stunning Digital Ad Brochure Stand from Dolce Media Group. These vibrant 22-inch displays make the perfect addition to your office space or showroom floor. Built with the brightest technology and the most advanced marketing tools, its presence throughout your business is an innovative way to launch your brand ahead of the competition.
In addition to our Digital Ad Brochure Stand, Dolce Media Group is also proud to offer our Digital Standalone Ad Screen, with 47-, 50- and 55-inch display options to best suit your space. These 10-point touchscreens add an interactive edge to your business.
Dolce Media Group houses a talented team of creative minds ready to produce your next promotional video using stunning graphics — perfectly bespoke content to display on your new screens. Experience the freedom of rotating content at the push of a button; ensuring your material is always fresh and never permanent or stale. Leave a lasting impression with your clients. Call us today for more details.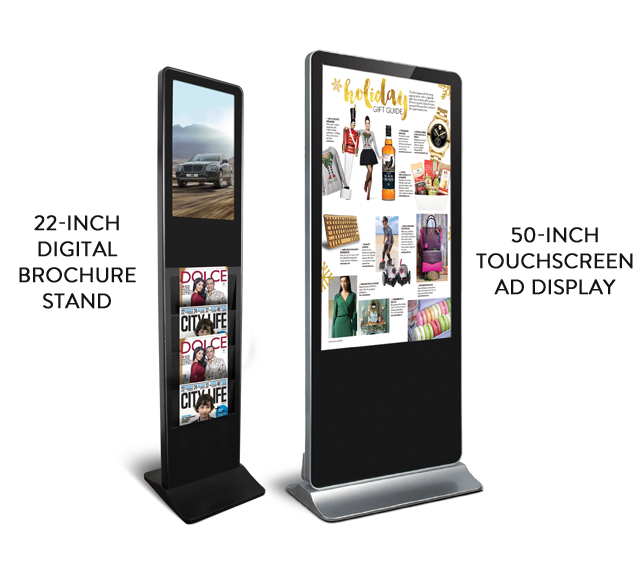 client's testimonial
"With the results-driven team at Dolce, 133 Hazelton and 181 Davenport received exposure that made these projects a success. Dolce understood our vision and developed effective marketing solutions that exceeded expectation."
Sam Mizrahi
Mizrahi Developments
"Their responsiveness and customer service is second to none. Guildhall is proud to align ourselves with a company that stands for excellence, luxury and integrity. We look forward to a long and successful working relationship with DMG."

Nicole Snitman
Guildhall Diamonds Inc.